What would Warfare be without our Demonstration and Participation games.  It's the fourth and final side of the Warfare square – and over the years it has had some fascinating, outrageous and downright gorgeous examples.  A veritable visual feast –  that and the imagination of the exhibitors over the years has been truly mind blowing.  
My own personal favourite was several years ago at Rivermead when there was the magnificent display of the Aztec city of Tenochtitlan – a period of history that has always fascinated me.   Has anyone a picture.
As ever there will be an eclectic mix both of demonstration games for you to ogle at and ask questions alongside several participation games for you to rest your weary legs, take a break from shopping and immerse yourself in whatever tickles your fancy.
For those demonstrating and putting on the participation games there will again be the shield and some WARren the Wyverns on offer for best in show.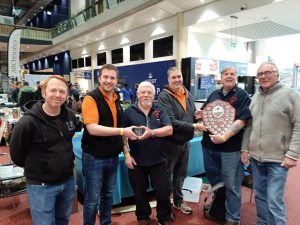 This year as stated elsewhere we are celebrating the 110th Anniversary of the publication of  H.G. Wells Little Wars so special kudos for anyone that gets their creative juices flowing and comes up with something that fits in with that concept. We would love to see someone take on doing something in line with that – could be flats,  could be the old W Britain's figures actually using his rules –- although H&S may draw the line at shooting matchsticks out of a toy cannon at them a la Jerome K Jerome – although it could make an interesting participation game -the canvas is broad.
So if you wish to put on a demonstration or participation game, then please contact: [email protected]
Warfare 2023 Demonstration Games Signed Up to Date (03/11/2023)
'
Banzai 28mm Japanese Civil War presented by Newbury and Reading
Breakthrough to Leipzig – a 15mm Napoleonic 1813 demonstration  by Steven Deeprose
Slitherine will be discussing and demonstrating some of their video games that your £15 door or £20 tournament voucher will entitle you to
Thai Cambodia border war 2007 by Scattered Gamer of Farnborough
Palestine 1938 by Deal Wargames society
Malvern Old Wargamers will be demonstrating the German peasants war using the Armati rule set
The Battle of Hydaspes. in 28mm figure scale sees  Alexander vs Porus. The last of Alexander the Great's major battles put on by the Mortiem et Gloriam team.
Shepway Wargames are running a demo called Dornier down.  A 'what if' 1940 Sealion scenario.
The
Society of Ancients
are putting on a demo game featuring the Battle of Cunaxa using 28mm figs and Impetus rules.
Guildford Wargames Club are demonstrating Guildford 1940
(Combined Oppo's) will be putting on a Demonstration game depicting part of the Zulu wars, specifically The Battle of Isandlwana on the Saturday and if that goes ok on the Sunday, they will be continuing with The Defence of Rourke's Drift.  They are hoping to table approximately 1100 Zulus and 300 British Infantry as well as Cavalry, Artillery, and a Rocket Battery also a large amount of Natal Native Contingent both mounted and on foot. They will also include a few vignettes such as the camp scenes, livestock kraal and aid station.  All of this in 28mm so its going to be rather impressive.
Huntingdon and District Wargames Society will be running  a 28mm  'Early days ' first Bull Run ACW game using the Sharpe Practice Rules
Crawley Wargames club will be putting on
Delhi 1803  A demonstration game of one of the Battles for India they have been putting on at various shows over the year. It is using 15mm figures and their own variation of Age of Eagles – Age of Tigers.  More details of Crawley Wargames Club at Crawley Wargames Club |(Saturday Only)-
Nervosa Games  Releasing at Warfare 2023. TRIBAL CONQUEST, a new Skirmish miniatures game where players command prehistoric tribes led by powerful spellcasting Shamans in bloody and brutal battles. A full demo game is available at the Nervosa Games stand.
The Three Musketeers will be running a demonstration of  Battle of Ulundi from Anglo-Zulu War
Members of the Wargames Association of Reading are putting on a demo from Roman/Punic times using 25/8mm figures utilising WRG 6th rules.  This continues the representation of that rule set at Warfare for over 40 years.
Warfare 2023 Participation Games Signed up to Date (03/11/2023)
Crokinole – The good people from Crokinole UK will be providing the opportunity to try out this traditional game on the Saturday morning. If you liked playing it you can enter the competition in the afternoon – could be a lot of fun see also the Tournament page.
A World Turned Upside Down-  An English Civil War 28mm game run by Prince Rupert's Regiment of Sealed Knot
Table Top Battles have gone berserk and bought a load of figures from Irregular miniatures 15mm and painted them up in two months which is now the participation game of  The Battle of Downham Station. Norfolk England. 1871. This pits the 10th Prussian Armykorp against the British Home Division. Using mostly 15mm Irregular Miniatures on a 3foot by 2ft table. (Saturday Only)
Abingdon Wargames Club are putting on Overlord 2144 –  a participation for up to 4 players containing  some surprise elements. The theme of the game is D-Day on the moon in the year 2144. It is fun, fast and occasionally silly (A bit more than occasionally to be fair).
Hobgoblin – Fantasy massed battle; A Billion Suns – Deep space fleet battles –  Gaslands – Post Apocalyptic car racing a variety of games run by Planet Smasher Games Unreasonably Fun Tabletop Games
SAGA Dark age skirmish run by the ironman himself on behalf of Gripping Beast
Space 1889 – Cloudships of Mars – Revisited  of Mars put on by last years winners The Werelords (in association with South London Warlords)
28mm Vietnam Parkfield Miniatures
Try your hands out in Mig alley – An aerial combat game during the Korean war by the WaR Demo team (Saturday Only)
Qing Vs Burmese and Tudor rules by Tiger Miniatures
Sedan (1870), Franco-Prussian War – 6mm, BBB rules – Oxford Wargames Society
A historical military disaster that makes a much better game than you'd expect!
Swindon And District (SAD) Wargamers are running  a WW2 28mm platoon level 'rolling participation' game taking place in 1944 France using the 'Take the High Ground' rules.  (Sunday Only)
Corvus Belli – will be running participation sessions of their new table top wargame and also the sci fi game Infinity  check it out near the Infinity tournament
The Ministry of Gentlemen
are running a "Mouse that Roared" inspired game based around   Her Majesty's Name 2nd Edition.  The setting is the Grand Duchy of Fenwick, wherein Lord Curr's Incorrigibles and the Society of Thule shall both be attempting to recover The Q-bomb (without setting it off).