Description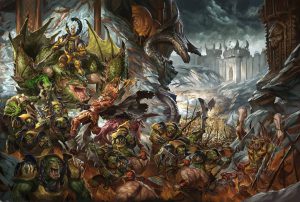 The Summer WAAAGH! is a fun 1 day Age of Sigmar tournament held by the Wargames Association of Reading on the 14th July. Over the course of the day you will play 4 games of Age of Sigmar using scenarios from the (at the time) current General's Handbook. Tickets for the event are £10 and will be available shortly.
Timings
0845-0910 Arrival and Registration
0910-1915 Welcome and Briefing
0915-1045 Game 1
1045-1100 Break
1100-1230 Game 2
1230-1300 Lunch Break
1300-1430 Game 3
1430-1445 Break
1445-1615 Game 4
1630ish Awards
You will need
2 Copies of your army list
Rulebook and General's Handbook
All the rules you need to play your army
Dice
Tape Measure
3 Objective Markers
Your fully painted, based army
To not be a dick!
Army Restrictions
Armies are to be chosen to a maximum of 1000 points using the restrictions for a Battlehost. Lists should be written in either Azyr or Warscroll Builder and submitted via email to djhendrsn@googlemail.com by midnight on the 16th September.
Army Painting and WYSIWYG
All models must be fully painted. This means that they look fully painted and be based in some consistent way. If your army is 'from' a particular realm it must be based appropriately in a way that makes it look like it's actually from that realm.
All models must be WYSIWYG. If you have any cool count-as units which deviate massively from the official look then please email me with pictures to show me to double check they are okay.
With regards to basing, it is preferable that all models are on the official base as described in the designers notes however this will not be strictly enforced providing the base you have chosen fits the model mounted on it.